We have to be willing to let go of the life we have planned so as to have the life that is waiting for us. ~ Joseph Campbell
Maybe you have been there? Face muddy from the dirt. Body bruised from the shock of life's rug being ripped from underneath your feet.
Many of us face a moment when the life we imagined vanishes and we are left grappling with a precarious and uncertain future. When the last sympathy card arrives and the world prods you to get busy living, how do you fumble through the darkness and back into the light?
We believe that one of the most powerful ways to heal is to step out of your story and experience an unforgettable adventure – all while contributing to the world in a positive way.
The Adventure of a Lifetime For Anyone Impacted By Cancer
From February 28 to March 14, 2015, we will return to India for two weeks of volunteering, rediscovery, and a once-in-a-lifetime trip to see the sun rise over the Taj Mahal. If you feel like cancer has taken over too much of your story and you want to join the ranks of our FCAF Alumni who chose to believe in a new dream, check out all of the details here: FCAF International In India. Then, apply before midnight (PST) on October 30, 2014 to join us. Our programs are open to patients and survivors of ALL types of cancer.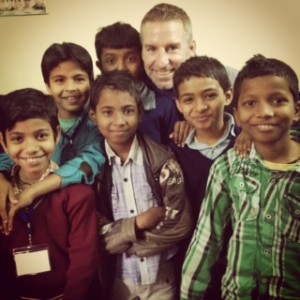 Our Program Fee is $5,000 and you have the option of paying in full or fundraising (for part or all of it). But, we want our programs to be available to as many people as possible. So, if you are dreaming about a meaningful adventure in India, but feel like the cost or fundraising commitment would make it impossible, we want to help. Thanks to the Melissa Carroll Legacy Fund, we are thrilled to be able to offer partial or full scholarships.
In exchange for financial support, you will be able to come up with a plan to "pay forward" this experience. We love creating opportunities for you to heal yourself while healing the world. 
We only have 12 spots, so if you are dreaming of joining us, apply right away so you have the highest likelihood of being selected. Although we want to take everyone who applies, we are looking for a diverse mix of ages and types of cancer and preference will be given to our early applicants. If you haven't been impacted by cancer, but you know someone who has, please share this post via email and social media so we help more patients and survivors feel like new dreams are possible.
If a trip to India isn't in the cards for now, but you still need support, check out our FCAF Cancer Support Partners page for a variety of resources from across the cancer industry. We're proud of what our partners do to make an impact every day.
Or, if you want in on an international experience, but you're not ready yet – make sure you're signed up for the FCAF Tribe Email. You will be the first to know about our 2015/2016 International Programs in Africa and India. If you would prefer an adventure closer to home, stay tuned for details on upcoming FCAF North America programs.
My Story: The Life I Had Planned
In 2011, I was angrier than I have ever been. Disgusted by the bright red mastectomy scars on my chest. Devastated that my life had not gone according to plan.
From the age of 9 (when my parents brought my baby brother home from the hospital and I claimed him as my own), I counted down the years before marriage and motherhood. Throughout my 20s, I scanned rooms for my future husband and whenever love arrived, I assumed it should last forever. Instead, as I crossed the threshold into my 30s, I found myself alone in an ultrasound room with the wand – like a cruel joke – pressed up against a tumour on my chest wall. This was not the way my life was supposed to go.
As I recovered from my final surgery, my apartment became crowded with disillusionment, anger, and sadness. After supporting me through cancer treatment, friends struggled with what to say when I chose a Kleenex box, a glass (or bottle) of red wine, and a sad song as my Friday evening entertainment. I can't say that I blame them.
The Moment Possibility Stepped In
Then one night, I just couldn't stomach this sad version of myself anymore. Maybe I had cried it all out. Maybe the voices of friends had finally registered. Or, maybe I was tired of feeling like a person people pitied.
Needing to make meaning out of a set of life circumstances I didn't understand, I found myself thinking about what I could do (instead of what I couldn't). What did the world have to offer a single, childless woman who wanted to believe in a new dream and to feel inspired again? A vision of volunteering in Africa bubbled up – unexpected and vivid.
If you know our story, you know that first trip to Africa led to the creation of the Fresh Chapter Alliance Foundation. It paved the way for our two FCAF International programs in India and our continued mission to inspire possibility, purpose, and connection in those impacted by cancer. By combining local and international volunteering with wellness programming and meaningful adventures, we are driven by a desire to help survivors gain perspective, find community, and rebuild their lives.
Just as Africa helped to "lift me" out of my fog and provided me with just the perspective of possibility that I needed, now it's your turn to start a fresh chapter in your life. Click here to find out more about our upcoming trip to India in February 2015.
A Fresh Chapter – Chasing Dreams & Changing Lives from A Fresh Chapter on Vimeo.[/box] 
Read More