Apply Now for AFC's South Africa & Peru 2017 Odyssey Programs
Are You Ready To Explore Life Beyond Cancer? 
A Fresh Chapter empowers diverse groups of men and women to step beyond the label of cancer "patient," "survivor," or "caregiver," and into a new world of volunteering, cultural immersion, and personal growth and development. As part of a broader framework of support, our 2 week international volunteer travel experiences help you see that struggle is universal and it's possible to heal, connect, and serve others while reclaiming your life.
Applications for A Fresh Chapter's Fall 2017 programs are now open. If you are looking for an opportunity to expand your story beyond cancer, apply before midnight (PST) on Wednesday, February 15th. Preference will be given to those who apply early! It's the only time this year when you can apply once and be considered for one or both of the fall programs. To apply, you can click on this link or scroll down and apply directly via our site.
Learn More About Each Program
South Africa Odyssey (September 23 – October 7, 2017)
Cape Town, South Africa is a perfect place for you to start your fresh chapter. Whether learning about the rich and complex history of apartheid, volunteering with South African oncology organizations alongside local LIVESTRONG leaders, or participating in your first African drumming circle, you will be forever changed by the experience.
From volunteering with a community-based project and/or supporting a cancer awareness campaign to visiting the rolling hills of Stellenbosch (South Africa's wine country) or the grandeur of the Cape of Good Hope (where the Atlantic and Indian oceans meet), you'll see how Cape Town is a metaphor for life's contradictions. The ability to hold both the light and shadows of a place will help you reframe the challenges of cancer and think about the possibilities ahead. For a taste of what this experience could be for you, see Cape Town through our founder's eyes six years ago: Crashing Into Love or check out this post by alum, Felicity Palma: See//Be Seen – Felicity's South Africa Experience. 
Peru Odyssey (November 4-18, 2017)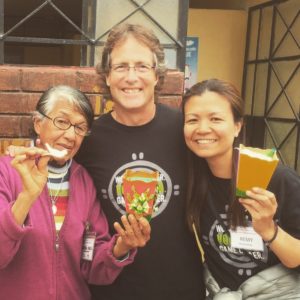 In October of 2016, we successfully launched our first Peru Odyssey Program in partnership with Lilly's Connecting Hearts Abroad and Cross-Cultural Solutions. In the fall of 2017, we are thrilled to return to offer our second Peru Odyssey Program open to patients/survivors from both Lilly and our broader AFC community.
While in Peru, you will have the opportunity to volunteer with community based projects in Villa El Salvador or support locals impacted by cancer. Everyone will have the chance to meet with one of our local oncology partners for a story session that weaves together the challenges of facing cancer – no matter where you live. You will not only experience two weeks of volunteering and cultural exchange (including a once-in-a-lifetime trip to Machu Picchu), but you will come home with new friendships, memories, and support to help you reimagine your fresh chapter.
To see Peru through the eyes of our 2016 Tribe, check out these posts: Gaby's Fresh Chapter: A Different Kind of Me, Kahron on Thanksgiving & Choosing To Get Busy Living, or Connections: Wanda Lucas on Returning Home. Or join us for 2 minutes in Peru through this wonderful video produced by our friends at Reality For A Better Reality:
Peru Odyssey: A Fresh Chapter & Lilly from A Fresh Chapter on Vimeo.
Apply Now or Help Spread the Word
Apply for our Peru Odyssey, our South Africa Odyssey, or both by clicking here or completing the form below.
Please help us spread the word by sharing this – via email and/or social media – with anyone you know who has been impacted by cancer and might be interested in learning more.