Become A Fresh Chapter Partner
With inspiring breakthroughs and advancements in the way cancer is diagnosed and treated, we are on the precipice of a new oncology frontier. Now, it's time to revolutionize how we think about the emotional scars of cancer – often hidden, but etched deeply in the lives of patients and communities impacted by cancer. It's time to empower people living with or beyond cancer to explore fuller, healthier, more impactful lives.
Our Impact
Few options exist, outside of a traditional support group, for helping those impacted by cancer process feelings of isolation, depression, anger, survivor guilt, and fear of recurrence or death. These emotions often go untreated and impact the mental and physical health of patients as well as their ability to integrate back into their families, workplaces, and communities.
A Fresh Chapter's mission is to heal the emotional scars of cancer through volunteerism, meaningful travel and programs designed to reframe adversity and redefine what's possible.
As part of a broader framework of support, A Fresh Chapter's international and US-based signature Odyssey programs offer diverse groups of women and men a way to step beyond the label of cancer patient, survivor, or caregiver, and into a new world of volunteering, cultural understanding, and personal growth and development. Our programs offer a unique volunteer travel experience – domestic or abroad – that acts as a catalyst to help participants realize it is possible to heal, connect, and serve others while reclaiming your life.
Why Our Work Matters
There are currently 14.5 million cancer survivors in the United States [1]
At least 35% of people impacted by cancer experience significant emotional distress. More than 50% of those experiencing distress don't seek traditional support. [2]
Distress is the most under-reported and common side effect of cancer [3]
Highest levels of distress often happen 13-24 months post treatment [4]
25-39% higher rates of mortality in breast cancer patients suffering from depression [5]
In the population at large, volunteering is associated with lower depression and increased well-being. [6]
Since 2013, A Fresh Chapter has:
Provided transformational support to more than 100 cancer patients, survivors, and caregivers 
Completed 8 global programs across the following countries: India, Peru, Costa Rica, South Africa, and the U.S.
Volunteered more than 5,000 hours with dozens of organizations (at home and abroad) – positively impacting the lives of thousands of people around the world.
Built an innovative corporate partnership model – piloted in Peru with Eli Lilly & Company – that weaves together Corporate Social Responsibility, Employee Engagement, and Employee Wellness
Designed a measurement system – built on validated instruments – to capture pre and post data to demonstrate program efficacy
Created a robust framework of support, tools, resources that can be customized to serve the individual needs of each our participants.
A Fresh Chapter participants create a ripple of good in the world while taking positive action against the isolation, anger, depression, fear of recurrence, and survivor guilt often created by cancer. Whether returning to work with renewed purpose, healing relationships with loved ones, committing to ongoing volunteering, or even making peace with dying, AFC's revolutionary approach to cancer support is building stronger collaborative communities and a better world.
2017 Growth & Impact Objectives: 
Growth 

A 50% increase in the number of participants served (and volunteer hours contributed) over 2016
Expansion of our global footprint with international programs offered in Costa Rica, South Africa and Peru

Program Evolution

Launch of a new Advocacy Leadership Model to serve 16-20 non profit leaders and social influencers from across the industry, which will become a template for further expanding AFC's program offering in 2018.
Introduction of our first program to focus purely on oncology related volunteering, designed in partnership with leading South African organizations and open to U.S. and Canadian participants as well as an invitee from an underserved community in South Africa. 

Measurement

Further data collected from all A Fresh Chapter programs to substantiate immediate and long-term impact
The establishment of a measurement system designed specifically for the Leadership Odyssey to track the success of reducing burnout and increasing collaboration across the industry. 

Storytelling/Content

Release of a second short film to highlight A Fresh Chapter's 2016 Peru Odyssey program and the importance of healing the emotional scars of cancer
Feature fresh stories/testimonials from alumni, showcasing the immediate and long-term impact of the program
Explore a further film partnership with Reality For A Better Reality to highlight the global face of cancer and the need for more robust services and care in South Africa 

Customization Opportunities

Expand our Employee Engagement Model to offer more partners an opportunity to serve both their employees impacted by cancer as well as the broader community with a partnership that blends employee wellness, employee engagement, and corporate social responsibility. 
Learn More About How You Can Partner With A Fresh Chapter
By investing in programs that improve the quality of life for patients while building stronger communities at home and overseas, you will help shift the paradigm of cancer support and transform the adversity of cancer into a catalyst for renewed meaning and positive growth.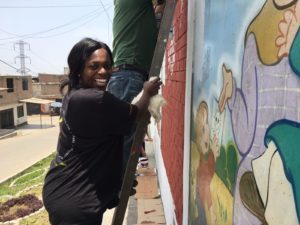 To learn more about partnership opportunities, please contact our CEO and President, Terri Wingham at twingham@afreshchapter.com. 
A Fresh Chapter Alliance Foundation is a Project in affiliation with Social and Environmental Entrepreneurs (SEE), a non-profit public charity exempt from federal income tax under Section 501(c)(3) of the Internal Revenue Code.
Sources: [1] NCCN Distress 2015; [2] ACS Cancer Treatment and Survivorship 2014-2015 [3] National Comprehensive Cancer Network practice guidelines for the management of psychosocial distress; [4] Yalez, B (2013); [5] Journal of Clinical Oncology, 2011; [6] Dr. Suzanne Richards, University of Exeter Medical School, 2013