Advocacy Leaders Odyssey
I love my advocacy work and yet, in order to move things forward and affect change, sometimes I feel like I have to shout to be heard. My A Fresh Chapter Odyssey program gave me the opportunity to connect with diverse people who had experienced different types of cancer. I felt like I could sit back and listen and learn from their experiences as well as explore some of my own emotional scars. I didn't have to be "on" and I could build connections and get support to sustain me for my advocacy work in the future. ~Heather (2016 AFC Participant) 
Advocacy Leaders Odyssey: Connect, Recharge, Grow Our Movement
A Fresh Chapter's mission is to heal the emotional scars of cancer through volunteering, meaningful travel and programs designed to reframe adversity and redefine what's possible.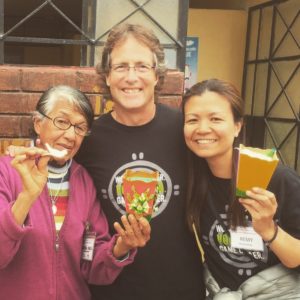 The Need: Whether you work for a cancer non profit or advocate via social media and online platforms, you serve on the front lines of cancer every day. You provide support and information to cancer patients, survivors, caregivers, fellow advocates and friends who face extreme financial, physical, or emotional hardship – often while grappling with your own experience of cancer (either as a patient or caregiver). With competing and complex demands on your time, it's rare for you to have an opportunity to step beyond the borders of your cause to gain fresh perspectives, address cancer's emotional scars, set goals for the future and reconnect to what inspired you to join the advocacy movement in the first place.
A Fresh Chapter is grateful to you – the advocacy organizations and volunteer advocates across the industry who work tirelessly to provide support, education, conferences, financial assistance, governmental lobbying, research, and much more to people living with or beyond cancer.
The Opportunity: In August 2017, A Fresh Chapter will offer our first U.S. based Advocacy Leaders Odyssey where we will customize our proven model of volunteering, travel, leadership development, and psychosocial support specifically for the advocacy community.
Our 5-Advocacy Leaders Odyssey will kick off with a 1-day joint event – Fostering the Next Generation of Advocate Leaders – for industry partners and advocates on August 7, 2017. We will volunteer alongside each other to serve a meal to the homeless of San Francisco, participate in an industry round table designed to spark new ideas and evolve best practices for recruiting, training, and retaining advocates, and enjoy an evening event where we can make new friends and reconnect with old ones. Then, 16-20 Advocacy Leaders will join A Fresh Chapter for a subsequent 4-day experience that weaves together perspective-shifting community volunteering, psychosocial support, leadership development, and a once-in-a-lifetime overnight trip to Big Sur/Carmel – all carefully designed to foster new connections across the industry while helping to address advocacy burnout.
More On A Fresh Chapter: Our History & Our Vision For Growing This Program
As part of a broader framework of support, A Fresh Chapter's international and US-based signature Odyssey programs offer diverse groups of men and women a way to step beyond the label of cancer "patient," "survivor," or "caregiver," and into a new world of volunteering, cultural understanding, and personal growth and development. Our programs offer a unique volunteer travel experience – at home or abroad – and act as a catalyst to help participants realize it is possible to heal, connect, and serve others while reclaiming your life.
Since February 2013, A Fresh Chapter participants have contributed more than 4,000 volunteer hours to dozens of organizations – positively impacting the lives of thousands of people around the world – all while taking positive action against the isolation, anger, depression, fear of recurrence, and survivor guilt often created by cancer. Whether returning to work with renewed purpose, healing relationships with loved ones, committing to ongoing volunteering, or even making peace with dying, AFC's revolutionary approach to cancer support is building stronger collaborative communities and a better world.
With the launch of our first Advocacy Leaders Odyssey, we will provide a unique networking experience as well as a forum for building stronger partnerships and growing the cancer advocacy movement. This Advocacy Leaders Odyssey will serve as a building block for future programs, ongoing collaboration, and a more comprehensive approach to fostering emerging leaders across our industry.
Program Highlights (August 6-12, 2017)
Sunday – Arrival at any time to Hotel Rex in San Francisco
Monday – Joint 1 Day Industry/Advocate Forum, then transfer to Ralston White Retreat Center
Tuesday – A mix of AFC programming and once-in-a-lifetime experiences
Wednesday – Volunteering and a Reimagine The Future storyboarding event
Thursday – An unforgettable trip to Big Sur followed by dinner and overnight in Carmel
Friday – An opportunity to join a unique mosaic project and/or explore Carmel/return to San Francisco
Saturday – Departures at any time throughout the day
Want To Join Us? Details Here: This will be an invite-only program for 16-20 Leaders from across the oncology spectrum who either represent cancer-related non-profits or act as independent advocates and have a broad social media reach into diverse patient communities. Non profits and social influencers are invited to nominate an employee, volunteer advocate, or fellow influencer to the program.  We plan for this to be the first of many Advocacy Leaders Odysseys and look forward to working collaboratively with all participants to continue to refine the program to best serve our industry.
If you know someone who would benefit, please contact Terri Wingham at twingham@afreshchapter.com as soon as possible to learn more and find out if we still have spots available.