International Odyssey
Volunteering abroad allowed me to reinvent myself and rediscover the things that ignited my soul. There were days filled with "ah-ha!" moments of self-discovery and the warmth of knowing that my life is significant. Cancer makes your world shrink into a space that consists of you, caregivers and doctors. A Fresh Chapter brought back my sense of possibility and community. By volunteering and connecting with others, I have found a comfortable space from which to navigate outside my cancer world. ~ Melanie
New A Fresh Chapter International Odyssey Programs for 2017
Our International Odyssey Programs are designed to offer a global volunteer experience within the context of our broader Odyssey Framework of support, tools, and resources. We know that each of us have a different story and different dreams for our future. So, in 2017, we are thrilled to offer a new international destination in our program line-up as well as a return to two of our favorite destinations. If you have been waiting for your opportunity to join us internationally, here is what we have planned so far:
Costa Rica Odyssey (March 5-18, 2017)
South Africa Odyssey (September 23 – October 7, 2017)
Peru Odyssey (November 4-18, 2017)
Applications for South Africa and Peru are open February 8-15, 2017. To apply, visit this page: Apply Now For AFC's South Africa and Peru Odyssey Programs. Or, to be the first to hear details of future programs, make sure you're signed up here: Become A Participant. (Programs are open to men and women impacted by cancer either as a patient or caregiver). 
NEW DESTINATION! Costa Rica Odyssey (March 5-18, 2017)
We are thrilled to offer you an opportunity to explore the world and see your story from a fresh perspective – all without traveling too far from home. With its rain forests, volcanos, hills and valleys, Costa Rica provides the perfect landscape for volunteering, reflection, and breaking through the borders imposed by cancer. Our home base in the rolling hills of the Orosi Valley will offer you a peaceful backdrop to explore this beautiful country as well as the opportunity to give back to rural community projects.
Through our partnership with Cross-Cultural Solutions, you will be matched with a volunteer placement in the communities of Cartago or the Orosi Valley. Whether supporting orphans, working at a special needs school, or helping with a more physical build project, you will spend your mornings giving back and your afternoons and evenings experiencing both the stunning natural landscapes of Costa Rica and the perspective shifting activities of A Fresh Chapter. Our once-in-a-lifetime weekend trip to the Arenal Volcano in the midst of a lush rainforest is sure to leave you filled with awe.
South Africa Odyssey (September 23 – October 7, 2017)
Cape Town, South Africa is a perfect place for you to start your fresh chapter. Whether learning about the rich and complex history of apartheid, volunteering with South African oncology organizations alongside local LIVESTRONG leaders, or participating in your first African drumming circle, you will be forever changed by the experience.
From volunteering with a community-based project and/or supporting a cancer awareness campaign to visiting the rolling hills of Stellenbosch (South Africa's wine country) or the grandeur of the Cape of Good Hope (where the Atlantic and Indian oceans meet), you'll see how Cape Town is a metaphor for life's contradictions. The ability to hold both the light and shadows of a place will help you reframe the challenges of cancer and think about the possibilities ahead. For a taste of what this experience could be for you, see Cape Town through our founder's eyes five years ago: Crashing Into Love.
Peru Odyssey (November 4-18, 2017)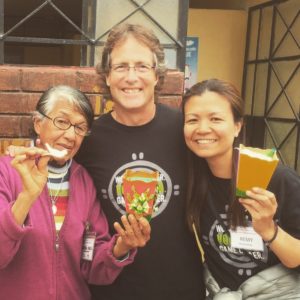 In October of 2016, we successfully launched our first Peru Odyssey Program in partnership with Lilly's Connecting Hearts Abroad and Cross-Cultural Solutions. In the fall of 2017, we are thrilled to return to offer our second Peru Odyssey Program open to patients/survivors from both Lilly and our broader AFC community.
While in Peru, you will have the opportunity to volunteer with community based projects in Villa El Salvador or support locals impacted by cancer. Everyone will have the chance to meet with one of our local oncology partners for a story session that weaves together the challenges of facing cancer – no matter where you live. You will not only experience two weeks of volunteering and cultural exchange (including a once-in-a-lifetime trip to Machu Picchu), but you will also receive the support of our dedicated A Fresh Chapter facilitation team before, during and after their trip.
As A Fresh Chapter grows our partnership with Lilly, we are excited to continue to offer life-changing experiences. Lilly's focus on uniting caring and discovery to make life better for people around the world is in perfect alignment with A Fresh Chapter's work. Together we will transform the pain and adversity of cancer into an opportunity for renewed purpose, fresh connections and meaningful possibilities.
A Look At Our India Program (Next Program Date TBD)

The destination for our first program in 2013, we have held four Odyssey Programs in India and are working on confirming the date for our fifth India Odyssey. (Stay tuned!). If you've been dreaming of India, first let us reassure you that you'll be in safe hands the whole time you are away. Through our partnerships with Cross-Cultural Solutions and G Adventures, we'll volunteer in New Delhi, experience the Indian culture, and marvel as we watch the sun rise over the Taj Mahal.
You'll spend your mornings volunteering with a local community project and your afternoons experiencing the best of the culture. From sipping fragrant chai with new friends each morning, to building connections within the community to connecting with local cancer patients, you'll come home with a renewed sense of purpose in your life. You'll meet people who can relate to what you've been through – all while having an adventure that reminds you what is still possible in your life.
Cross-Cultural Solutions (CCS) is one of the safest, most ethical, most comprehensive international volunteer organizations in the industry. They provide one-on-one support to every single volunteer before you leave, while you are in country, and after you return home. Each of our participants from the pilot program raved about the local CCS staff, the fantastic food at the CCS home base, and how safe they felt even though they were thousands of miles away from home.
Based on your skills and interests, CCS will match you with a local community project and you will spend two weeks giving of your time and energy to people on the other side of the world. Whether helping wash floors at Mother Teresa's Home For the Dying & The Destitute, participating in English lessons at a school for children living in one of Delhi's many depressed areas, or providing an extra set of hands to serve meals at daycares and special needs schools, you will not only act as a volunteer, but also as a Cancer Ambassador in communities where cancer is often veiled in shame, secrecy, and stigma. In addition, we'll once again spend time with New Delhi based cancer organization, CanSupport, to both connect with local cancer patients and survivors as well as help spread the word about their inspiring programs.
Dream, Grow, and Turn The Page to Possibility
Each International Odyssey experience will come with its share of growth opportunities and the chance to build lifelong connections. Although you'll have to adapt to the jet lag, sharing a room with another participant, and some language barriers, we know that even the challenges that come with traveling to another country will remind you how far you've come and how much is still possible in your life. You'll leave your experience with new friends, amazing memories, and the inspiration to continue finding ways to give back when you return home.
If you want to join us for a future program, click here to sign up for the AFC Odyssey Tribe. We can't wait to dream big with you!
A Fresh Chapter. Turning The Page To Possibility from A Fresh Chapter on Vimeo.